Holly Tree Apts. - Denton, Texas
2527 Louise St.
Denton, Texas 76201
Tenant pays electric

Laundry facility on-site

Walking distance to UNT

Outside storage & balconies

Pet friendly

LEASING OFFICE: 940-565-8413
Holly Tree Apartments are jam-packed with the flexibility and convenient storage options you can't find in smaller apartment communities. Holly Tree has balconies, walk-in closets, and outside storage options for each of its floor plans. Our smaller units are junior bedrooms (442 square feet) that feature an open floor plan with a half wall separating the bedroom and living areas. We are within walking distance of UNT, and for tenants with roommates, we have two-bedroom, two-bath units with the same storage features at 842 square feet per unit.
CHECK ON AVAILABILITY
Available Floorplans:
Junior bedroom 442 square feet
2 bedrooms, 2 bathrooms 842 square feet
---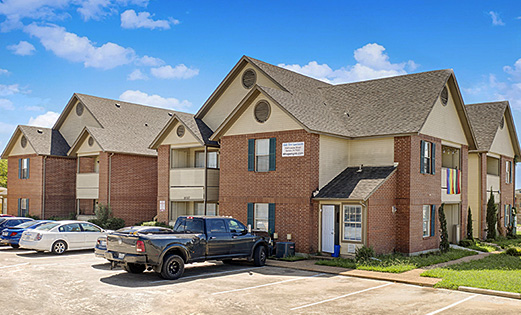 Holly Tree - 842 Sq Ft - 2 BR
"Exactly what I needed as a student!"
"I lived under Struga Management for a year while I attended TWU. They are very nice and reasonable people! Their Lone Star property was exactly what I needed as a student who wanted to be within walking distance from school. They were great with helping me get into my place and without any concerns. No tricks, no games, no shadiness. I highly recommend them!"
Meghan G., Denton Resident